Brigitte Ann Bisset-Kelley (Barrett)
Obituary by Brigitte's son Sam Bisset, published in The Seattle Times Aug 22 2010
On the morning of August 19th 2010 with family at her side, our beloved mother, daughter, sister, friend and inspiration passed on to be with the Lord after her 12-year battle with brain cancer. She is survived by her parents Bob and Linda Barrett, her sons Sam and Ben Bisset, brothers Brett Barrett [Kim], Russell Barrett [Kira], nephews Robert and Dylan Barrett and niece Vanessa Blanchard [Tom]. Brigitte was born on March 25, 1960 in Seattle, WA. She graduated from Lynnwood High in '78 where she was a cheerleader and made many, many lifelong friends who visited her frequently during her illness. She was a longtime real estate agent at MacPherson's Realty in Marysville. We are sure that she's playing Yahtzee, painting ceramics and watching M's games with her good friend Jesus (she may even tell him her favorite Lemon Drop recipe!). Should friends desire, contributions may be sent to:

University of Washington Neurology Tumor Fund
UWMC Department of Neurology
Box 356465
1959 NE Pacific St.
Seattle, WA 98195

A service will be held on Thursday 8-26, 7 PM at her longtime church home, Marysville United Methodist, 5600 64th St NE, Marysville.

Note: On the evening of Thursday August 26th, Marysville United Methodist was filled with a gathering so large it overflowed out into the lobby. Many folding chairs had to be wheeled in and unfolded just as the service was beginning. More than a dozen LHS '78 classmates attended the service.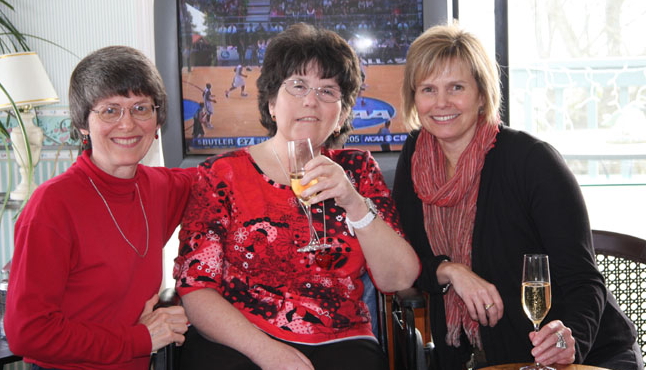 The above photo is from Brigitte's 50th Birthday Party on March 27, 2010 at her parents' home.
With her are Jody McGrath (Davidson) and Diana Chism (Seglins).